2 more days and I will leave NYC.
Since I haven't got time to plan my trip, went to Barnes and Nobles today and bought the lonely planet guide "South America on a shoestring". The book is 1000 pages long and that will keep my busy on the plane.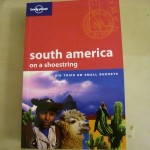 BBQ at Long Island city in the evening and here are the pics!!

Flying off in less than 3 days and don't think I did enough preparation for this trip yet.
I sold my car today to Elvis and we went to the DMV in queens to return my car plate. I have been driving the car for 5 years so I will definitely miss my car.
The DMV is just around flushing and there was a long queue at the DMV when we arrived. Surprisingly the DMV is pretty efficient and we managed to get everything done in an hour.
Stopped by flushing to grab the $4.95 lunch last time. 4 good dishes, fruit, soup and drink for 4.95? That's the most reasonable food place in New York City I found so far.
Had a farewell dinner at a chinese restaurant with some old friends this evening.