Category: Hunan
The weather in Hunan was cloudy and rainy this morning and yesterday.
Walked to Hunan Provincial Museum.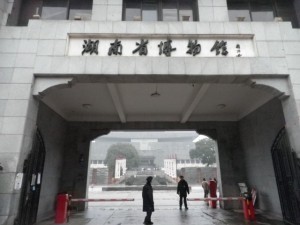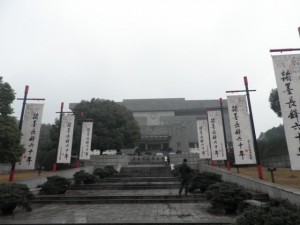 The museum is famous for its exhibition about MaWangdui, a Western Han tomb 2100 years ago. The body of Marquess of Dai is in the museum. This is one of the best preserved body from ancient times in the world, the skin was still moist when the body was found. She was buried in 4 layers of tombs with air tight seal and 80 liters of preserving fluid deep underground.
The outer tomb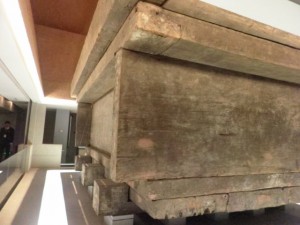 Inner layer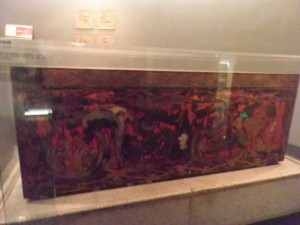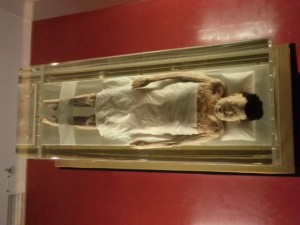 Changsha is the capital of Hunan province and some of the high rank members of the communist party such as Mao Zedong, Liu Shaoqi and Hu Yaobang grew up around here. It's a place famous for revolutionary events. There are many people who were involved in Chinese-Japanese war and Chinese civil war come from this province.
Xiang river divides Changsha into the east part and the west part. The city has a population of around 6 million.
LieShiGongYuan??????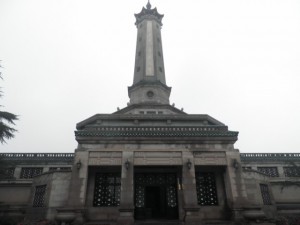 Those who were martyred.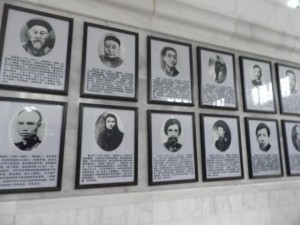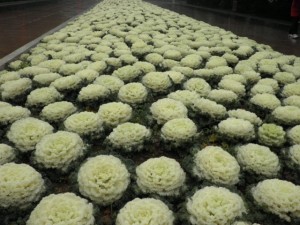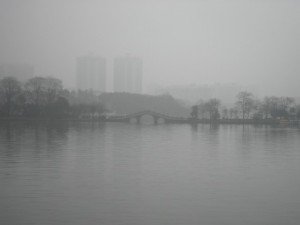 Hunan style noodle with beef (5 Yuan~USD$0.70). Ate 2 bowls of noodles.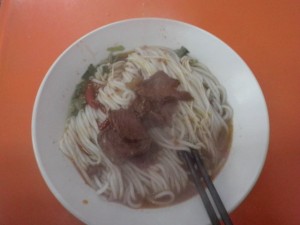 Changsha city museum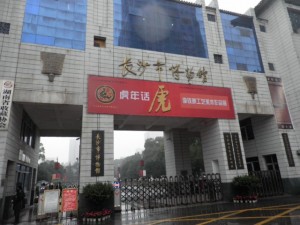 Mao's statue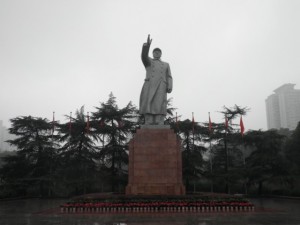 Street peddlers beside the museum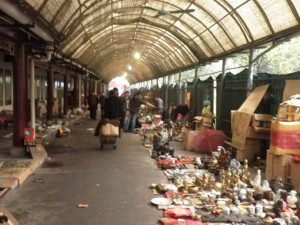 Those street peddlers were selling all kinds of stuffs. On the left is a book called Human and Mother Nature and on the right is a book about the quotations of Mao. This is the Chinese way of doing business, anything goes as long as it makes money.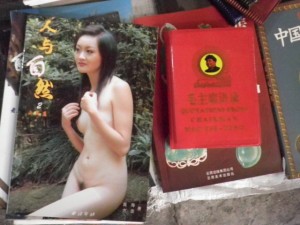 Former site of Hunan Communist party which was founded by MaoZeDong. Mao rent a house and lived here as well.

Took bus 1 across the Xiang river to the western part of Changsha.
Hunan University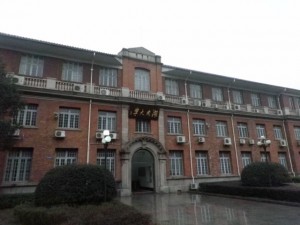 Not far away is YueLu hill.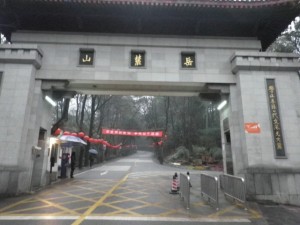 YueLuShuYuan. It's one of the four famous ancient academies in China and was established during Northern Song dynasty. Academies were extablished in China during Tang dynasty 1300 years ago for scholars to study Chinese classics.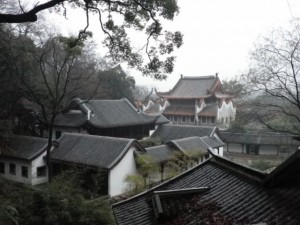 Took bus 1 back to the eastern part of Xiang river to WuYi square. I saw a guy was trying to steal something from a lady's bag and I shouted at him and approached him. Another guy which is also the thief's buddy came along and we had a fight. Those 2 guys are Uygur minority from Xinjiang province. I heard a lot of bad stories about Uygur people stealing things around in China but this is the first time I saw it with my own eyes.
Night view of Changsha city center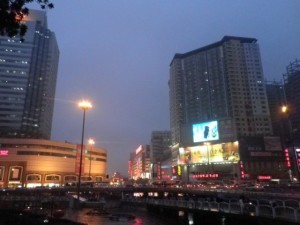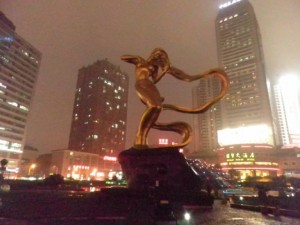 Went back to the hostel and some of the hostel employees also had some bad experiences with Uygur people.
Went to Changsha train station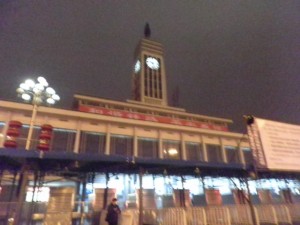 and took a 9.50pm K9017 train to Changsha (147Yuan~USD$22, hard seat, 11 hours ride). The hard sleeping berth cost almost 300 Yuan which is quite pricey for a 11 hours ride so I just got a hard seat ticket from yesterday.
With LingChao at the train station, a local Changsha friend.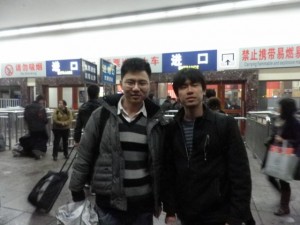 Took bus 606 to Wuhan University. A big proportion of bus drivers in China are female and this lady was wearing a high heel shoe navigating the bus.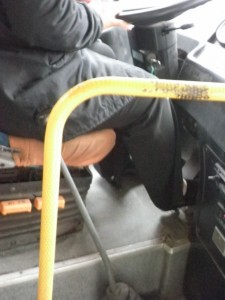 Wuhan University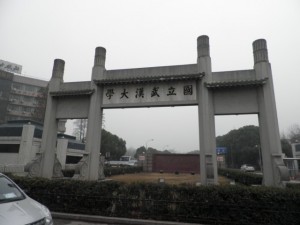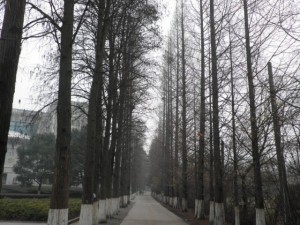 Took bus 413 to DongHu (East Lake)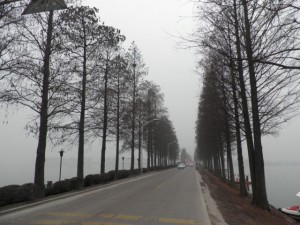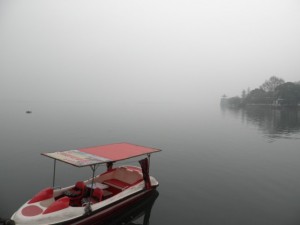 and MoShan.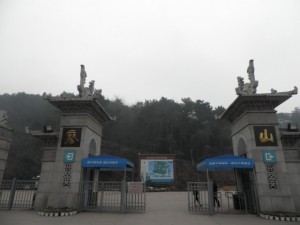 Took bus 401 all the way from the eastern part of Wuchang to the last stop at HanYang district.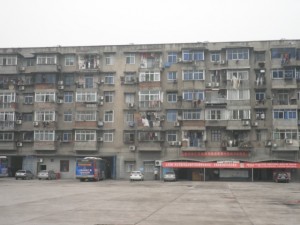 Visited Wuhan uprising museum.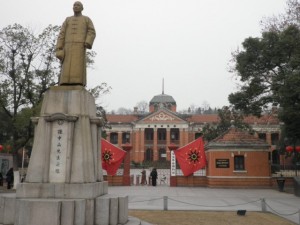 During Oct 10th 1911, Wuchang Uprising broke out and that led to the collapse of the Qing Dynasty and the establishment of the Republic of China.
The left is the military flag during that time and the right is the 5 color flag of Republic of China then. The five colors are representing the five major nationalities of China, the Han (red), the Manchu (yellow), the Mongol (blue), the Hui (white), and the Tibetan (black).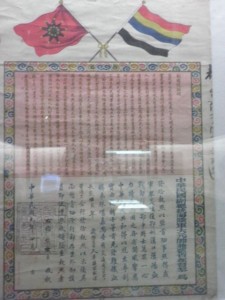 Decided to take the high speed train (GaoTie) to Changsha instead of the normal one. From Wuhan to Changsha it's around 350 km. Normal fast train takes around 3.5 hours (58 Yuan) and the high speed train (175 Yuan) will take only 80 minutes. Actually it will take almost the same amount of time to get to Changsha from Wuhan because the high speed train runs from the new Wuhan station located at the northeastern part of Wuchang which is a far from Wuchang city center to the new Changsha south station located at the south eastern part of Changsha which is also far from Changsha city center. To get to the new Wuhan train station, it will take almost an hour by public bus. Took bus 315 and switched to bus 311 to get to the new Wuhan station.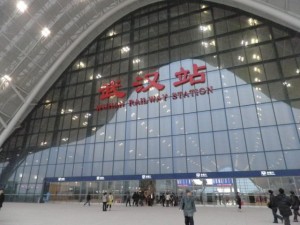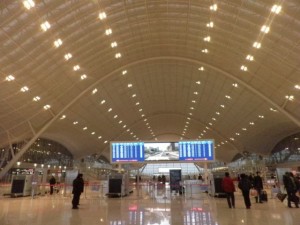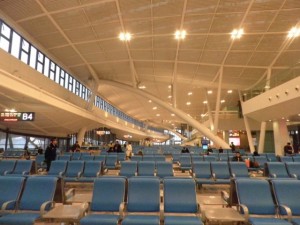 There is bullet train every 20 minutes from Wuhan to Guangzhou.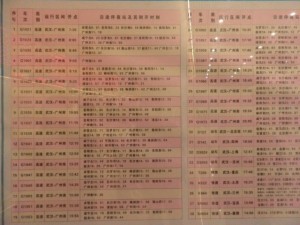 Infrastructure project in China are amazing. The country is modernizing its infrastructures in a rapid pace and the train station look first class. However, behavior of human is hard to change and still needs time. The floor in the station is super clean but people still throw guazipi (skin of sunflower seeds) on the floor.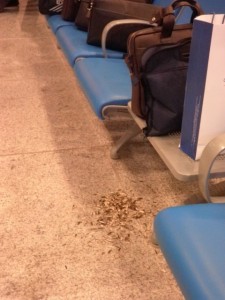 Got on the G1059 5.40pm train (175 Yuan~USD$26). For high speed train, it cost roughly around USD$9 for every half an hour ride.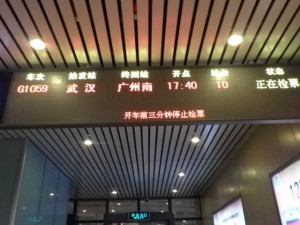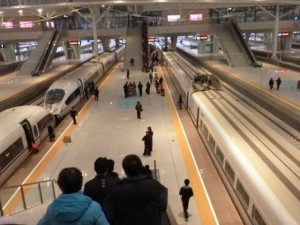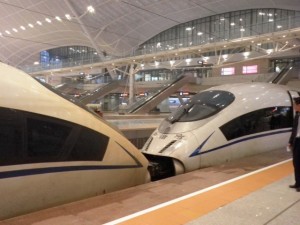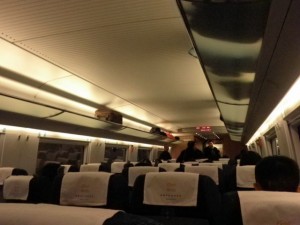 The top speed is over 350km/h.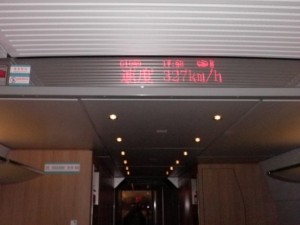 The train arrived at Changsha sharp at 7.08pm. The bullet train is similar to a metro system, the train stopped at in between stations on the way for less than a minute.
Automated exit procedure.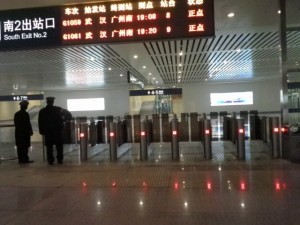 Automated ticket machine.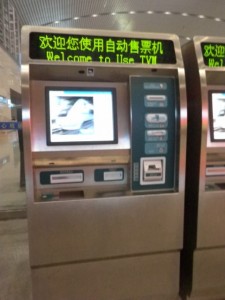 Changsha south station.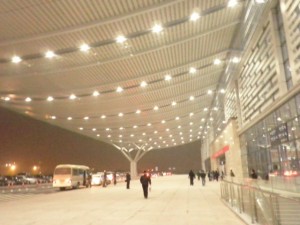 It's weird that the south station only sells high speed train ticket. The new south station is quite far from the city center. Took a bus to the main train station in the city and switched to bus 132 to XiaDaLong stop in order to get to Changsha Hostel (35 Yuan~USD$5).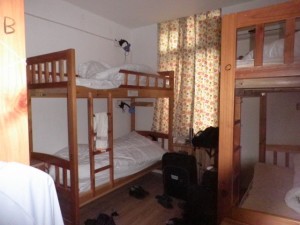 I was surprise to meet LingChao again at the hostel. We just met few weeks ago at a hostel in Beijing. He is from Changsha so he was my guide and brought me to try out Hunan cuisine which is called XiangCai.
On the left is LuShuiShiHeYi (4 combination) and right is a kind of spicy shrimp. Hunan cuisine is spicy and actually Sichuan cuisine originated from the combination of GuangDong cuisine and Hunan cuisine.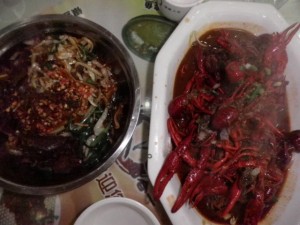 HuoGongDian is one of Mao's favorite restaurant.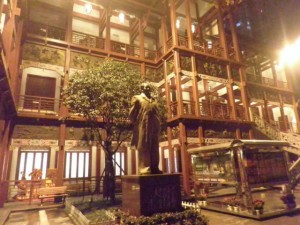 Mao loves stinky tofu and he mentioned that HuoGongDian's Tofu smells bad but it tastes good.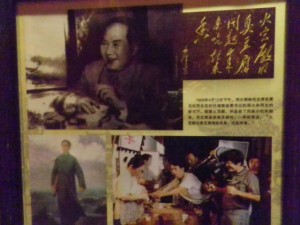 Changsha is famous for its bar culture. There are many bars around the city and this is one of the bar street, HuaLongChi.