Category: kosovo
Spent the morning visiting the historical museum in Tirana (100 Lek for student). Surprisingly, there are a lot of stuffs in the museum with history from the Neolithic period all the way to Albania independence and communism but the explanation is in Albanian.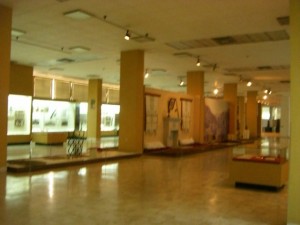 I was deciding if I should go to Skopje, Macedonia or Prishtina first. On the map, Skopje looks closer to Tirana but the bus ride takes more time (9 hours vs 6 hours, Prishtina to Skopje takes 2 hours I heard). So I guess the road to Prishtina is better and I heard that it's easier to get to Sarajevo from Skopje too. So my plan is to Prishtina, Skopje then Sarajevo. There is no central bus station in Tirana and bus leaves from a particular location and the ticket office. Took the 3pm bus to Prishtina, Kosovo (15 Euros, 6 hours bus ride).
From the last census, 70% of Albanian population are muslim but people here are not religious at all, probably because of communism few decades ago. There is not many mosques and no one wears the Burqhas on the street. Took the 3pm bus (15 Euro) to Prishtina.
On the road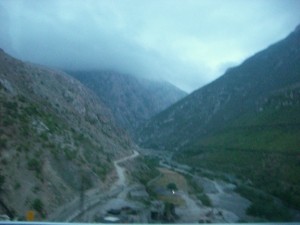 Arrived Pristina at 9.30pm. Pristina is the capital city of Kosovo. Kosovo is the newest country and the self-declared independent state is recognized by 62 countries so far. Serbia still does not recognise the secession of Kosovo and considers it a United Nations-governed entity within its sovereign territory.
After the Kosovo War and the 1999 NATO bombing of Yugoslavia, the territory came under the interim administration of the United Nations Mission in Kosovo (UNMIK), most of whose roles were assumed by the European Union Rule of Law Mission in Kosovo (EULEX) in December 2008.
The bus station is at the south eastern part of the city. Usually I avoid taking cab but since it's raining, dark and the hostel is around 3km away, so I took a cab to the Professor Guesthouse. This is the only hostel in Pristina. Got a single room (15 Euros since dorm beds were full).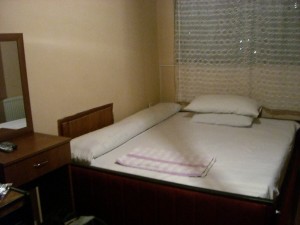 Next day,
Library of Pristina University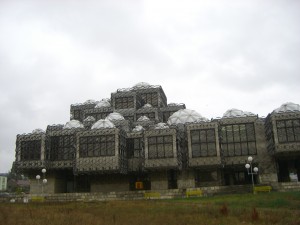 The city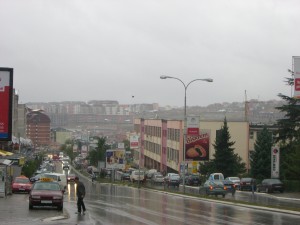 New born country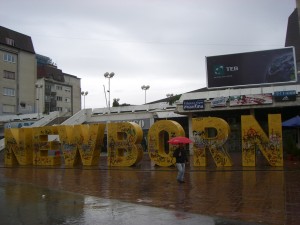 Kosovo is new and still trying hard to get other countries to recognize them. These are countries that recognize Kosovo so far.
Met a German guy at the bus station and he speaks much better Indonesian/Malay than me. He put me to shame.
Took the 3pm bus to Skopje (5 Euro), the bus already left the platform and luckily I managed to catch the bus. The trip to Skopje from Pristina is just around 85km but the bus took 2.5 hours. Arrived Skopje around 5.30pm and it's still raining. Tried finding my way to Art Hostel but someone gave me a wrong direction so I went to Hostel Hostel instead (8 Euro).
Met a Belgian and a Serbian at the hostel and we went to a club which played electronic music.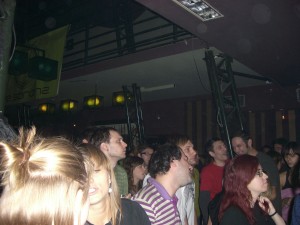 I though it sounded just like techno but they disagreed.
Steve and Milosh