Category: Cambodia
Breakfast (4000 Riel ~USD$1).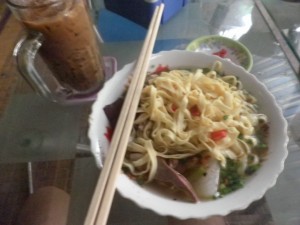 Noticed that there are a lot of Chinese characters on shops around and some Cambodians are able to speak Mandarin or some other Chinese dialects.
Visited the Tuol Sleng Museum (USD$2), also known as the security prison 21 and Genocide Museum.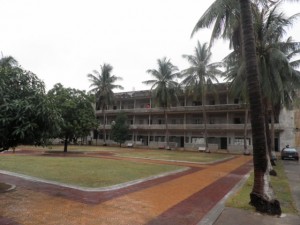 This is a school converted to a prison by the Khmer Rouge to torture and kill those who were suspected to be anti government then. There are some gruesome pictures showing prisoners who were tortured and killed.
A frame used to torture prisoners.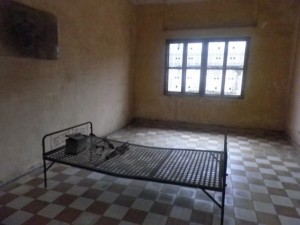 When the Khmer Rouge came into power, they divided the population into the Old people and New people. The Old people were classified as people who lived in rural area before the Khmer Rouge came in 1975 and they have full right. The new people were those who were in the city, they were viewed to be unreliable and subjected to persecution.
After a hot day yesterday, it rained this morning. This made the visit to the museum a little more gloomy. Few months back when I was visiting the Auschwitz prison, it rained too.
The Khmer Rouge ruled the country from 1975 to 1979 and approximately around 2 million Cambodian were killed. Khmer Rouge imposed an extreme version of agrarian communism which sent the whole city population to the country side to work in farms. The wanted to end any dependency with foreign developed countries by being self sufficient on agriculture products. Many people were sent to work in collective farms and this caused starvations. They also introduced their own ideas in combination with communism.
The leaders of Khmer Rouge were actually very well educated and studied in Paris, some even have doctorate degrees. Somehow when they came into power, the Khmer Rouge murdered all the intellectuals and burned money and books.
In Dec 1978, the Khmer Rouge launched pre emptive strikes against Vietnam because of strained relations. After almost a 4 year rule, Vietnam attacked Cambodia and removed Khmer Rouge from power. Even though Khmer Rouge ruled Cambodia brutally but they still retained a UN seat until 1982 and was backed by the western world.
They recruited mostly young soldiers,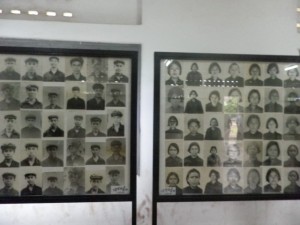 brainwashed them and made them do some evil stuffs.
Prison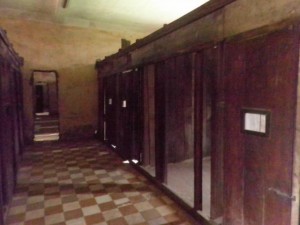 Bones and skulls of prisoners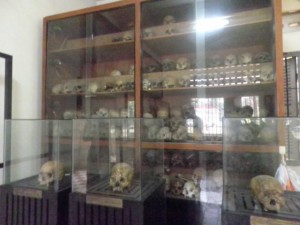 I saw a few signs like this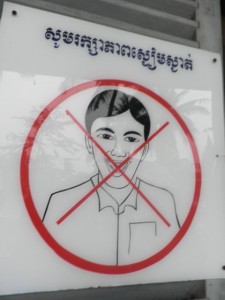 not sure if it means do not smile.
Went south to the Russian Market which sells all kinds of stuffs from pirated DVDs to clothings, sovenirs and poultry.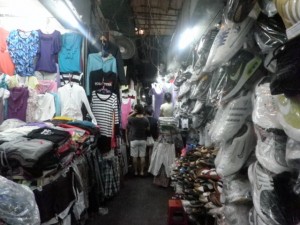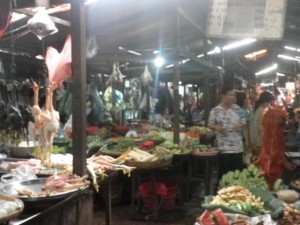 Central Market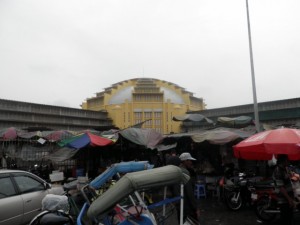 The last bus to Ho Chi Minh departs at 2pm (USD$12) and bought the ticket last minute at 1.30pm. Returned the motorcycle and managed to get back just in time for the bus.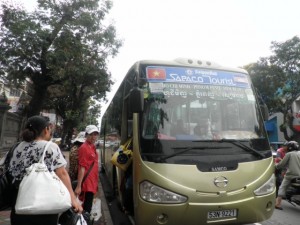 The bus got on a ferry to cross a river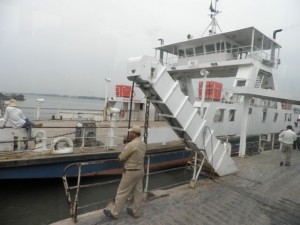 Arrived at Ho Chi Minh around 8.30pm after a 7 hours bus ride. Ho Chi Minh is a pretty big city of around 7 million people. After the fall of Saigon in 1975, the city was renamed Ho Chi Minh. There are many motorbikes on the street.
The bus dropped us at Pha Ngo Lao road which is sort of a backpacker's area.
Had a bowl of Pho (30000 Dong~USD$1.50, USD$1~19,000 Dong)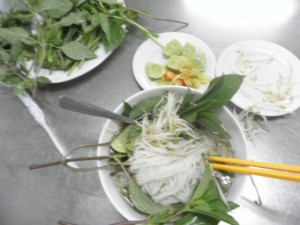 for dinner and getting my bearings before searching for accommodation.
There are many budget hotels around the Pham Ngo Lau area. After asking at a couple of places, finally stayed at Dai Hoy Hotel (USD$10).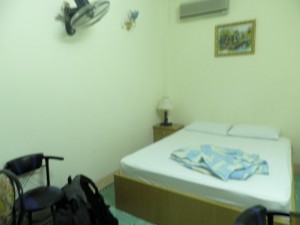 Took the 7.30am bus (USD$6)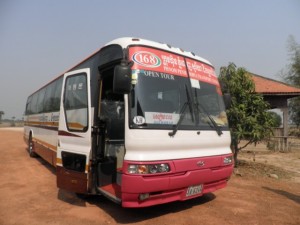 to Phnom Penh. Phnom Penh is the capital of Cambodia with a population of around 1.5 million people. The city was a French colony during the middle of 19th century and became independent in 1953. The city population increased to 2 million refugrees during as the Vietnam War spread into Cambodia. When the Khmer Rouge took over, the city population was evacuated to the country side. The city was divided into multiple zone and the different factions of Khmer Rouge was in charged of the different zones. The population in the city then was just 50,000.
The city was only repopulated when the Vietnamese defeated the Khmer Rouge in 1979.
Arrived at the bus station around 1.30pm. Walked south on Monivong street to Lucky Lucky a motorcycle rental shop which I found on LP book.
Rented a motorcycle (USD$5) for the day,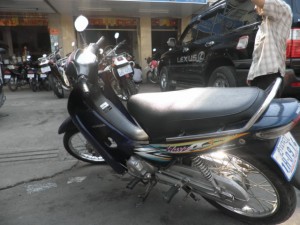 gas here cost around USD$1 for a liter. Stayed at Sunday Guesthouse (USD$5)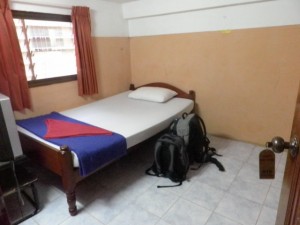 a night around Psar O Russei area.
Street food for lunch (6000 Riel~USD$1.50)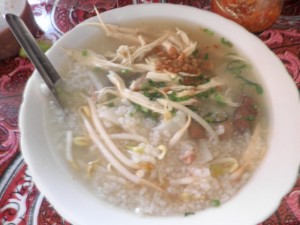 I did a U turn right in front of a no turning sign and unfortunately the police was just waiting right beside. I didn't realize they are wearing the light blue uniform. I heard that usually police wanted a lot of bribes from foreigners but locals just pay USD$2. I asked them to take me to the police station but the police gave an excuse that I have to wait here until 7pm. I knew that they wanted bribes, after walking around and negotiating, finally paid them USD$5 because by delaying, time will be more costly. The police seemed to be pretty useless because another tourist came and told them that someone just robbed him of USD$200 but they just pretended that they don't get it.
It's my mistake after all and this is a good reminder for me to be more careful on the motorbike.
Grand Assembly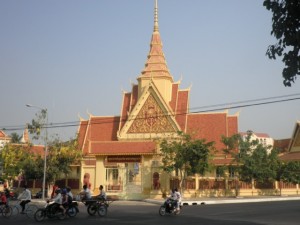 Grand Palace (USD$6), which I didn't go in, a picture outside is sufficient for me.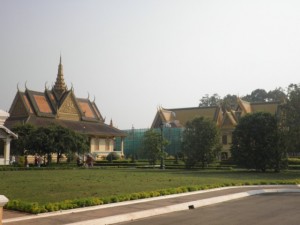 National museum (USD$3)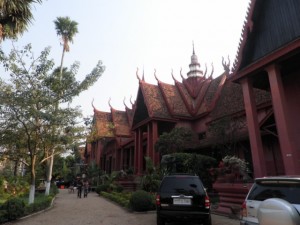 There aren't a lot to see in the museum, just a few artifacts/statues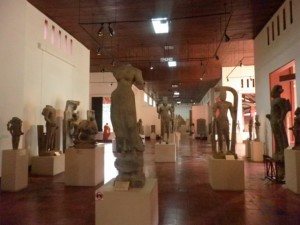 but there's a nice garden in the museum.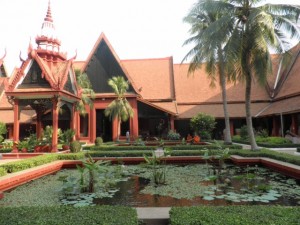 Beside the Tonle Sap River.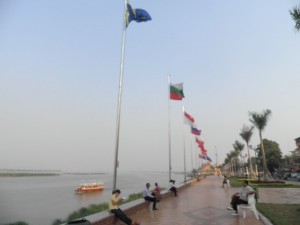 View from Wat Pho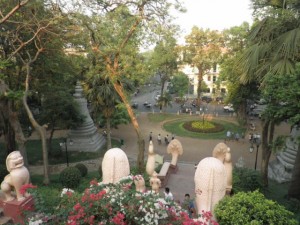 Biked around the city for the rest of the day.
Dinner, beef noodle soup (6000 Riel~USD$1.5)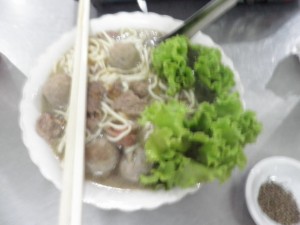 The Khmer empire was the greatest empire in South East Asia. The Khmer empire ruled a big territory around the Cambodia, Thailand and Vietnam region from the 9th -13th century. Before then, were the Funan 1AD-6AD and ChenLa empire from 6AD – 13th century who ruled the areas.
Angkor Wat is actually just one of the many temples in the big Angkor Archaeological Park.
A loop around the Angkor Archaeological park is around 30km. A one day pass cost USD$20, 3 day pass cost USD$40 and one week pass cost USD$60.
Rented a bicycle (USD$2) and go around the park for the day.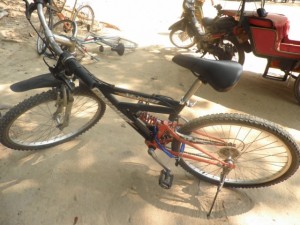 Angkor Wat is surrounded by a river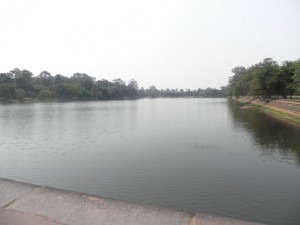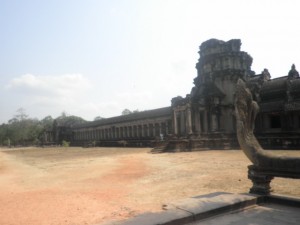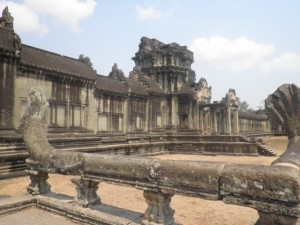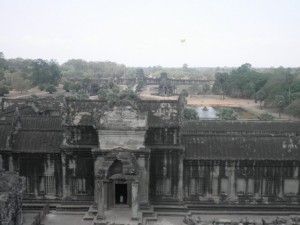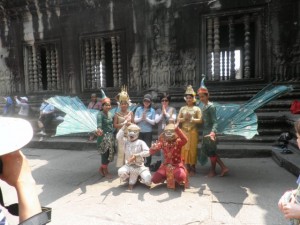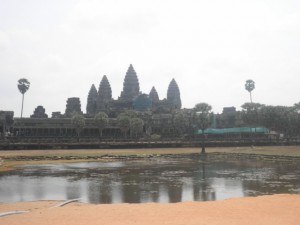 Angkor Thom
Bayon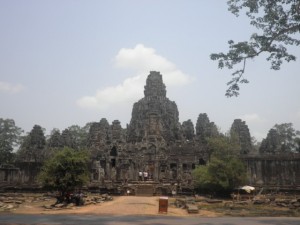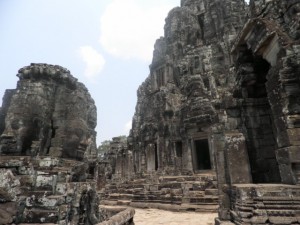 Since the economy of the city revolves around tourism, many people are trying to sell things and provide services to tourist. Many kids are trying to sell souvenir, food and drinks to tourist. This reminded me of Egypt with a lot of hassling at tourist but at least Cambodia is still not so bad yet.
Some talkative kids trying to sell stuffs.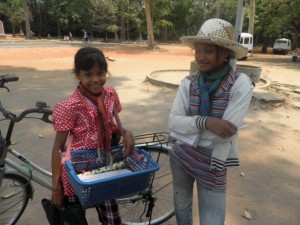 Cycled for probably more than 40 km for the day and the hot weather doesn't help.
View of Angkor Wat from the river