Sunday – Did a long run along the Palisade today, this is part of the NYC Ironman course. Ran 19 miles at around 8:30 ish pace. Oh man..the course is quite hilly with 2000 over feet of elevation, that will really hurt in the race.
http://connect.garmin.com/activity/187663035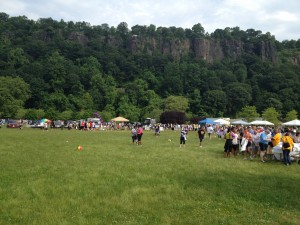 Ross Dock (T1 and T2 transition for NY Ironman this year)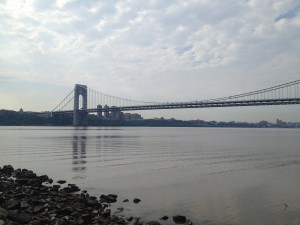 View of GWB from Ross Dock
Saturday – Went on a long bike ride with NYCC. We rode from Garrison to Port Jervis and back to Beacon. In total, we rode for almost 110 miles. It's a pretty hilly course with around 7000-8000 feet of elevation. Spent the whole day on the bike and my ass was so sore!
http://ridewithgps.com/routes/1287704
http://connect.garmin.com/activity/187828674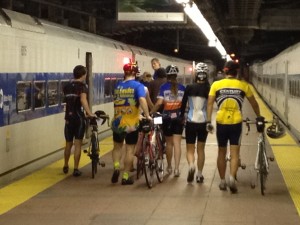 Friday – Joined Red Tide NYC for a swim session in the morning, they are one of the Masters Swim team. Did some drills in the pool for 1.5 hours. Did another swim session at River Bank in the evening, was in the pool for another 1.5 hours. Even though I spent 3 hours in the pool today but I find that I am still very slow in the water. My time for 100m is around 2:10-2:30 min, and actually I swim faster with a pull buoy 2:00-2:05 so I guess my feet is sinking and that creates more drag/resistance. Swimming is stressing me out, hope the magic wetsuit will help me on race day.
Thursday – Rest Day! But got to meet with Jordan Rapp who won 4 Ironman competition at City Sports. He graduated from Princeton with Aerospace Engineering degree and somehow got into Ironman when he injured himself in rowing. He is a cool guy, pretty funny and gave some great advices.
– Transition is the 4 sports for shorter tri but nutition is the 4th component for Ironman.
– For biking and running, train by time. But for swimming, train by distance.
– He doesn't do a lot of run longer than 2 hours, but will do rides in the 6 hours range (approx 100 miles) because running is the last part and he kept saying you will figure it out.
– Regarding the question of Intensity vs Volume, he mentioned that German triathletes train by volume but he trains by intensity.
– Regarding techniques in triathlon, swimming is all about technique, then BRICK (train the muscle fiber to switch quickly from biking to running), running followed by biking which doesn't require too much technique.
– Regarding strength training, it's only important to make you strong in the training. The end goal is that you want  your long training run/ride to simulate the race.
– Racing the Ironman is bad for you, but the training is good. So that evens out.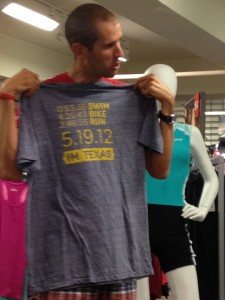 Wednesday  –
Tuesday -6 miles easy run with the team.
Monday – Did a BRICK workout with Empire Tri club, did 2 repeats of Bike (5 miles) – Run (1 mile)