Sunday – Went to cheer for some friends doing the Portugal Day 5 m race in CP in the morning before heading over to Brooklyn to join CIBBOW for their weekend open water swim in Brighton Beach.  Somehow there were constructions on the B,Q line so I was delayed, went to Coney Island instead and ended up joining an open water swim clinic organized by Terrier Tri group. Elyse was the coach and gave us some good advices about sighting and how spitting in the goggle will prevent it from getting blurry. It took me almost 15 minutes to put the wetsuit on. I don't float very well in the water but the wetsuit definitely helped! It's magical!
So this week I have been doing a lot of swimming because that's my major concern. Next week I need to ramp up my biking, getting strong in the bike is so important I think.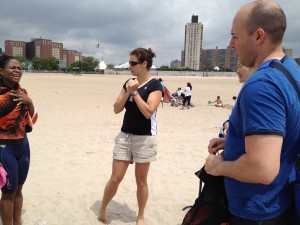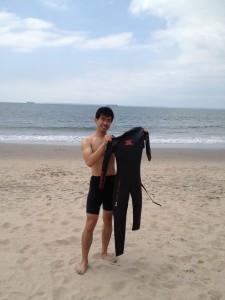 Magic wetsuit!
Got home in the afternoon and ran 3 loops around Central Park (18 miles). I kept going without stopping for water/gel this time, managed to average a 7:58 min/mile pace. Not sure if it's a good thing but hope that will trick my body into running with a low reserve. http://connect.garmin.com/activity/190319660
Saturday – Swam with Red Tide in the morning..Oh man..I am still so slow in the water and was passed by all the ladies..sad..


Took the 7 train to flushing afterwards to have brunch with Stefan who is an Ironman veteran. He has been doing triathlon for 30 years! Crazy! Wanna thank Geraldine and Marvin for organizing the brunch, got some encouragements and good advices from Stefan. The great thing is that he told me I can do it! Nutrition really plays a big role in Ironman race, here is a good video about how our body absorbs nutrition.

Friday – Swam for 1.5 hours in River Bank in the evening.
Thursday – Joined Red Tide for a swim session in the evening.
Wednesday – Ran the JP Morgan Corporate Challenge 3.5 miles run in CP. Did it in 21:08, 6:02 min/miles. Finished 1st for my company. Just wished I ran harder and went under 6 min pace.
http://connect.garmin.com/activity/190319679
Tuesday – Went to the River Bank pool in the evening.
Monday -Rest Day